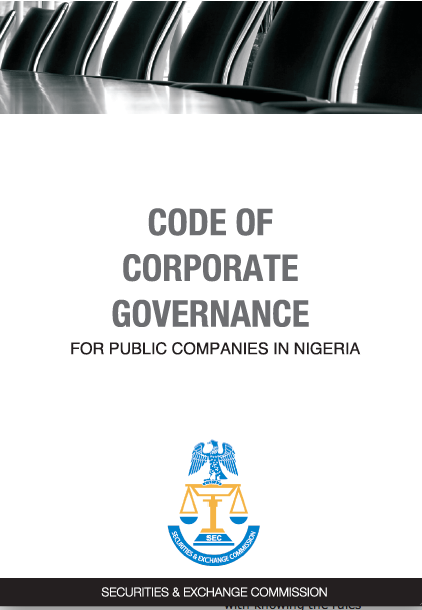 The National Code of Corporate Governance being prepared by the Federal Government will become effective January 1, 2014, the Chief Executive Officer, Financial Reporting Council of Nigeria, Mr. Jim Obazee, has said.
Unlike existing codes of corporate governance that are only persuasive in nature, Obazee disclosed the National Code of Corporate of Governance would contain stiff penalties for various forms of infraction by corporate bodies and their top officials.
He told newsmen on Thursday in Lagos that members of the committee were drawn from the Central Bank of Nigeria, Nigerian Deposit Insurance Corporation, Pension Commission and the Nigerian Communications Commission.
According to him, the steering committee will submit the discussion draft to the government in August this year.
Following this, he said the board of FRC would sit on the draft for three months, after which a public hearing would be held before the final endorsement of the National Code of Corporate Governance.
The Minister of Industry, Trade and Investment, Mr. Olusegun Aganga, had on January 17, 2013 constituted the Steering Committee for the National Code of Corporate Governance.
According to the FRC boss, Section 11a of the agency's Act says the objective of the agency is to protect investors and other stakeholders' interest in companies.
He said, "The issuance of national Code of Corporate Governance is a very important deliverable that can be used to enhance our national competitiveness and address some socio-economic issues including corruption and lack of independence."
"It is also an opportunity to raise the bar in the public and private sectors and to ensure that there are stiff penalties and that directors and personally liable for their actions and inactions. These are efforts aimed at improving our investment climate and foreign direct investment flows, and enhancement of our competitiveness and international perception."
Obazee explained, "The Minister gave the committee six months to submit the draft. Immediately we have the draft, FRC board will sit on it for three months and hold a public hearing to expose it to stakeholders. By January 1, 2014, it will become effective.
"It will no longer be for discussion. Remember that CBN, NDIC, SEC Pencom and NCC all have code of corporate governance. These codes are persuasive in nature. Once the National Code of Corporate Governance is out, all other codes will be taken from the table."
Also, the FRC CEO also said that agency had opened its register for the registration of professionals in the country in accordance with Section 41 of the Act.
To ensure compliance, he said the Federal Government had issued a circular, directing all public interest entities to henceforth require FRC certificate of registration, as one of the requirements for employment of a professional, submission of contract bid, expression of interest and rendering services among others.
He however said the agency had yet to register some professionals because their professional bodies were not currently backed up with enabling laws of the National Assembly.
Consequently, he said the FRC had advised such professional bodies to facilitate their bid for relevant legislation as the council does not register professional whose professional body does not have enabling law.
Obazee disclosed that about 15 professional bodies were currently involved in such situation.
Source: Punch